Panda Sketching at Guadalupe Center's Summer Enrichment Program
Marti Koehler asked me to teach a few summer art classes at the Guadalupe Center in Immokalee, so I adjusted my Elementary school Panda Sketching lesson for shorter sessions for younger students.

I was very impressed with the discipline and artistic skill displayed by the 3-5 year old artists. No wonder there is a huge waiting list for this pre-K center.

My sincere thanks to the dedicated teachers and staff for their support with class management and distribution and collection of art supplies last week. Your help was essential for the smooth work flow and efficient resetting of the Performance Arts classroom during the consecutive 30 minute sessions for each student group.

On my last day at the center the regular art room was occupied, so I had the opportunity to visit three of the students' classrooms for their respective art sessions.

The younger kids were told to color and draw on the panda card stock template directly with the Crayola Super Tip markers.

The older students were instructed to first trace the panda template to exercise their eye-hand coordination and then to customize the image to their liking by adding their own background elements.
Budding artists with their finished projects.

Once the students completed their projects, they got a Nakamura paper airplane for their next playtime period.

Also managed to speed sketch a personalized cartoon portrait for most of the students that attended one of the 11 sessions I taught at the center. The positive experience reminded me of how rewarding early childhood education programs can be and to consider them as a possible avenue or component of my future teaching plans.
You are viewing the item Panda Sketching at Guadalupe Center's Summer Enrichment Program

Read source article
http://cartoonsketching.blogspot.com/2011/07/panda-sketching-at-guadalupe-centers.html
Panda Sketching at Guadalupe Center's Summer Enrichment Program
Art Supplies: Perfect Paints
Paint is the perfect elementary school art medium. Picking up a paint brush is irresistible to kids and I know why; it's when the magic happens. It's vibrant, messy and oozy. But even though kids love paint, sometimes it's hard to know what paint is best for the classroom. In keeping with my series on popular art supplies, here is a list of paint that has worked and some that haven't.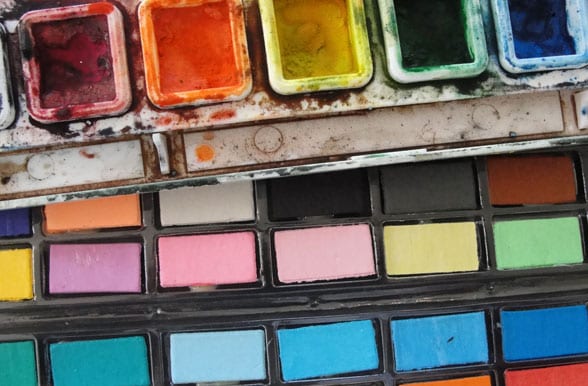 Today's Feature: Perfect Paints!
Tempera paint is by far–and I stress–by far the most essential paint to have in your classroom. I use it for more than 3/4′s of all my painting projects. I love Crayola Brand mostly by default. It's the brand that my school district orders and when I tag onto the school's large order, I get a better deal. I get the basic colors: Black, White (more white than any other color), Flesh, Primary and Secondary colors, Turquoise and Brown. With these colors you can achieve most any color that you desire.
Other art teachers have found success using other brands and the truth is, I don't think they vary much. So order whichever brand offers the best deal.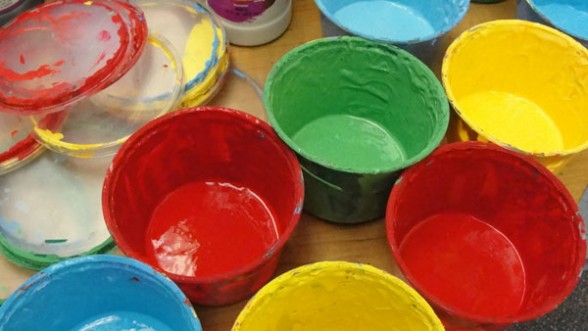 Distribution of Paints:
I like to distribute my tempera paints in 6-well plastic trays for projects that require my students to mix paints. I try to gauge how much paint the class will use because once you squirt the paint into the trays, it's hard to save the left-overs. Sometimes I will mix colors directly in the bottles and then squirt the new color into the tray. I think it helps give the painting project a color boost. Try adding a bit of white to the standard yellow. It takes the green tinge away making the paint so much prettier.
Tip: If you need to save the paint-filled palettes until the next day, place some plastic wrap on top. It should keep the paint relatively moist for up to 3 days.
When a project calls for general colors, I like to set plastic tubs of pre-mixed paints on the tables. This is my preferred method as I don't waste paints. Even if the colors come straight from the bottle, it makes sharing paint and brushes much easier. After the class is over, wipe the rim and place the plastic cover on. My paints will last 2-3 months with this method. Any longer and the paint will begin to smell.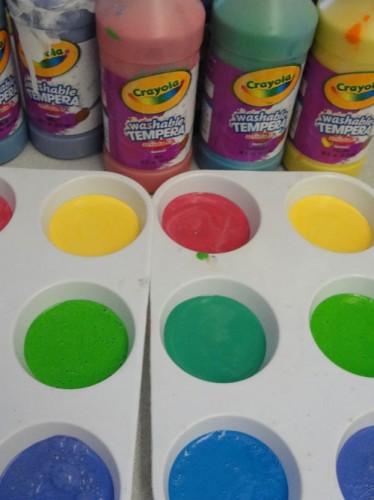 Specialty Paints:
There are alot of specialty paints out there that look pretty darn fun. I've tried quite a few and feel that most aren't worth it. Here are the ones I'd recommend:
Sargent Art Metallic Tempera: I love, love, love the gold and silver version of these metallic paints. I wouldn't bother buying the other colors as there isn't much need. They are expensive, about $6 for an 8-oz bottle, but if you use them as an embellishment for a painting or collage project, you'll be surprised at how long they can last. Even in a project that requires an entire surface be covered, like these Poinsettia Plants, you still won't need more than 1/3 of the bottle for 2-3 classes.
Occasionally, I have purchased colored metallic paints like red or turquoise. I love these two colors as they are really a standout in some of the projects that I have done. The Cardinal in Winter is my favorite and you can see how beautifully the metallic blue paint works.
If you can afford to buy a couple of bottles, stick with gold and silver and give these a try. Lots of fun and the kids LOVE them.
Glitter Paint: I've purchased a couple different brands of glitter paint hoping for that magical formula but I've always been disappointed. The paint always ends up with a strange viscosity; a bit gluey and transparent. I'd pass on glitter paint in the tempera form although the liquid watercolor glitter paint is a bit better (but still doesn't have the wow factor I was hoping for). Your best bet with glitter is the old shaker style glitter which you can apply on top of any paint surface. And it's alot more fun as well.
Pan Watercolor Paints: You may all know that I adore liquid watercolor paints and it's really my go-to choice when it comes to any watercolor project. I've written a whole post on the virtues of liquid watercolor but I don't often talk about pan watercolors. And there is a good reason for that; I don't like 'em. Mixing cheap pan watercolors is frustrating for many kids; the colors get muddy, the pans are never clean and cleaning them is a pain. BUT they're an important part of art education, so I must use them.
I've used Prang brand ever since I've started teaching art and although they are probably as good as any other affordable paint set out there, this is the year that I'm changing it up. I don't yet know which brand I will buy but if anyone has had success with anything in particular, let me know.  It might be time to invest in a better quality and order fewer sets and use them only for my upper grades.I'll let you know what transpires.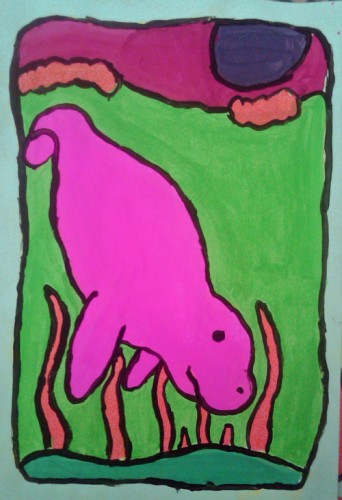 Fluorescent Paints: I bought a set of fluorescent paints last year. They were expensive; about $50 for six, 16oz bottles. Would I buy them again? Probably not. I did find having the pink and orange on hand was great as it's hard to get a good vibrant pink and orange from mixing the standard tempera. Aside from these two colors, I didn't think the other colors (yellow, green and blue) were of any great advantage to any of my projects. If you can order separately, get the pink and orange and then at least you will have the bright color in your paint arsenal.
Have you found any other must-have paints? Please share what you have found!
Here are three links for great art supplies….
You are viewing the item Art Supplies: Perfect Paints

Read source article
http://feedproxy.google.com/~r/DeepSpaceSparkle/~3/CG2ECTgf0wI/
Art Supplies: Perfect Paints
Chemistry Education Digital Library
The Chemistry Educational Digital Library is a wonderful resource to Chemistry teachers and students! There are 3 main areas on the site. First, there is a video archive of science videos where you can investigate what you are seeing and why it happens. Practice being a scientist! Then there is an interactive periodic table (see below.) While this is not my favorite interactive table that I have seen online, it's still another resource that may appeal to learners.
Finally, there is an area where you can view
animated models of different common molecules
.
At the top of the page, click on Collections and Community for additional links and resources.
Related Post:
You are viewing the item Chemistry Education Digital Library

Read source article
http://amyboehman.blogspot.com/2010/04/chemistry-education-digital-library.html
Chemistry Education Digital Library
Behold: The LiveScribe Pen has Educational Applications
I recently received a
LiveScribe

pen
for demo through work. Shortly after, the vendor came out to show how this pen could be used on a basic level, and how it could integrate into a classroom setting.
What is a
Livescribe
pen? The pen contains a small camera to record your movements as you write on special dot paper. The dots are almost invisible to the naked eye. You can purchase notebooks, notepads, and journals for your pen, as long as you don't duplicate the notebooks. For example, if you already bought and used "notebook one", don't purchase another "notebook one" unless you want to overwrite all of your previous work. Each notepad has different dot paper that the camera records. You can also print out extra dot paper from the
LiveScribe
website if you like. Within the dot paper, there are small controls that are embedded into the page: most notably: record and stop.
This is how it works:
Click record on your page during a lecture or presentation.
Start using your pen and notebook to write notes during the lecture
Click stop when you are finished.
If you "tap" any of the words you wrote during the lecture, you will hear what was being said in the room at that point in your notes.
No – the pen does not "speak" your written notes. It is not text-to-speech. No – the pen does not turn your messy handwriting into digital print (handwriting recognition). But imagine – you don't have to worry about writing EVERYTHING down during lectures anymore! For example, what if you decided just to write the main ideas and record the rest of the "details" using the pen? It would save your fingers from endless scribbling during class, and you will have captured everything you need to study. Upload your audio and notes to your computer so you can play the audio back on the computer instead of just through earbuds. Click a button to upload these notes online, get a URL to your recorded notes, and share your notes with colleagues, friends, or guests.
So how could this be used in the classroom? Think of all of the ways this pen could be used in the primary classroom.
Talking Books: Make your own living books! Glue a small piece of dot paper on a story book, draw a dot on the page as you record your voice reading the text on the page, and voila! Now students who have difficulty reading can listen to the book and follow along without an assistant.
Talking Word Walls: Ever have kids write the wrong word down even if they used your word wall as reference? Now record your voice saying the word on the bulletin board. When kids click the word, they will hear the word being read out loud. It takes the guesswork out of "which word do I need?
Singing Notebook: embed songs all in once place – in your notebook
Running Records: Record kids reading for fluency for playback for parent conferences or so you can code the passage more accurately later in the day.
ELL Vocab: Do you teach English as a Second Language students? Do you have objects labeled all over the room? Use the pen to record your voice on each label, so kids can hear the word instead of just see the word. Great for pronunciation practice!
Make up spelling tests: Absent kids take a spelling test with the pen, instead of you.
Do you want to see more ideas? Check out this wiki for amazing screencasts and ideas.
You are viewing the item Behold: The LiveScribe Pen has Educational Applications

Read source article
http://amyboehman.blogspot.com/2009/12/behold-livescribe-pen-has-educational.html
Behold: The LiveScribe Pen has Educational Applications
Super Cute Chore Chart
I have debated on when to start my little one on a chore chart… and I realized that the time has come! She is old enough to be responsible for a few tasks, and I figured I should start this chart while she still loves to help!
After finding a simple, yet cute, chore chart online (check out
Leah Remillet's photography site
for a free download) I went to work on what chores are appropriate for a three year old. I decided that 10 tasks would be great (and there just happened to be 10 lines on the chart!) We have a very solid night routine (brush teeth, say family prayers, scriptures) but we struggle with the mornings. So the first four tasks on the list revolve around improving our morning routine. As a teacher I had to stick in some of our learning activities- so two tasks are centered around scholastic education. Writing in journal, putting toys away, and putting on jammies are to help my daughter take more responsibility at night and to HOPEFULLY motivate her to do them quickly… I am sure I am the only parent with a daughter who associates bedtime with playtime! That left one task..feeding the dogs. She already loves to help with that, so I know that making this her special job will thrill her to pieces- or so I hope!
I also started thinking about external incentives- would she be motivated by stickers alone? I didn't want to be caught in the trap of giving her a treat every time she earned her 10 stickers for the day. So this is the plan: When my daughter earns her daily 10 stickers, we will run around the table (my daughter LOVES this!) and sing the "Go Jackie!" song/cheer. Simple- yet meeting the ultimate goal of my daughter knowing how proud we are of her and her good choices! I am also thinking of adding a special gold star sticker on her chart when she can go a whole day without a time out.
I am in the works to start a social skills jar with my daughter- focusing on a different skill every two weeks to a month (such as listening, following instructions, waiting, interrupting appropriately, and accepting feedback or correction) There are roughly 18 skill ideas that I would like to implement (taken from the
Cool Kids program
). I hope to type up that post as soon as we get our feet wet with the program!
As always, happy teaching!
You are viewing the item Super Cute Chore Chart

Read source article
http://thehometeacher.blogspot.com/2011/07/super-cute-chore-chart.html
Super Cute Chore Chart
Road Trip Survival Ideas
Planning a vacation with small children can be exhausting, and let's face it, the last thing we want to think about is the travel to and from our destinations. While planning our recent road trip to a few national parks, I came across some great ideas to keep kids entertained in the car (or plane!) I put them all together in a travel bag next to my daughter's car seat, and she was thoroughly occupied for the 9+ hour car trip (and that was just one way!!)
EDUCATION CUBES
This was by far my little girl's favorite activity in the car (for those who don't have a set of these cubes, check out
Education Cube's website
)
I made 4 different dice- one with colors, one with numbers, one with modes of transportation, and one with different objects you would see while traveling. The game play is simple- choose a dice (cube), gently throw it up in the air and catch it (without hitting anyone in the head!), whatever the cube lands on is the object you try and locate. For example, my daughter LOVED the color cube. When she rolled the color blue, we would work together as a family to try and spot blue objects inside and outside the car.
LICENSE PLATE GAME
So this activity was more for my husband and myself…. we searched for license plates from different states and whenever we spotted one (I use that term loosely- it was more my hubby than me!) we'd color in that state on our map. By the end of our vacation, we had colored in about 40 states!
FLASHCARD FUN: A NEW TWIST ON THE ALPHABET GAME
I am sure most (if not all) of us have played the "alphabet" game while traveling in the car. You know- the game where you start with the letter "A" and search billboards, license plates, and signs until someone in the car spots an "A" then you move on to "B" and progress through the rest of the alphabet. We decided to change it up a bit by bringing a set of well-shuffled alphabet cards. My daughter would choose the top card from her stack, and then we would search inside and outside the car for that letter. I loved that the letters were in random order- we never knew when one of those hard to find letters would pop up!
MAGNETIC PATTERN BLOCKS AND BINGO
Magnetic activities are quickly becoming one of my must-haves during church when it is important for my kiddo to sit still. So of course it made sense to bring them in the car!
I had a set of magnetic pattern blocks, cookie sheets from the dollar store, and pattern block printouts (found at
PreKinders
for free! Gotta love that!) I found some cute travel bingo cards awhile ago that worked well using the cookie sheet magnet board and circle magnets.
TRAVEL GAMES
In our travel bag, I packed several portable games that I knew would occupy my daughter's attention for a little while. We love the Leap Frog Scribble and Write learning toy- as well as our Tag reader and a stack of books.
I thought it a brilliant idea to bring my daughter's binoculars to get a better view of all our national park stops, but of course I left them in the car most of the time!
And last, but not least- bring (or make) a toy microphone so your kids can sing along to those road trip tunes! It's adorable and provided me with some entertainment!
This post is dedicated to all those skeptics who think the only way to travel with kids is via technology!
Happy teaching and travel safely this summer!!!
You are viewing the item Road Trip Survival Ideas

Read source article
http://thehometeacher.blogspot.com/2011/07/road-trip-survival-ideas.html
Road Trip Survival Ideas
Kinderbach Review
I have taken years of piano lessons. Eleven years, to be exact. My husband is an excellent pianist. You would think between the two of us, we would be able to handle teaching our bright three year old to play the piano. I taught her a few things… glissandos, octaves, middle c, fingering… you know, the basics. I wanted piano lessons to be fun, and at the time they were very short, sweet, and to the point. What I found that my approach to teaching her piano wasn't as structured or captivating as I wanted. I started doing some research online about different teaching methods and came across
KinderBach
, a site dedicated to teaching piano lessons to young children. I immediately signed up for the emails and after only a few days I was hooked! I just had to learn more! And I did something that I have never done before… I approached Karri about reviewing her product. And she was kind enough to send me a free DVD and allow me the opportunity to share with you all about her incredible, educational piano program!!
When my daughter and I sat down to start our first Kinderbach piano lesson, I must admit I was pleasantly surprised. I knew beforehand that this would be geared towards young children, but I didn't know how engaging a music lesson could actually be!
My daughter geared up for a KinderBach music lesson
What I love:
Teaches rhythm and basic counting practice. And while I knew my daughter could do this, I realized how FUN it was for her and I should allow her the opportunity to have fun with rhythm instruments.

Playing rhythm instruments with sheet music




Engaging…even for my overly active daughter. Our piano lessons using my slopped together technique lasted about 5 minutes. Now she can easily sit through a 20 minute lesson. And she loves it!

Now that's captivation! Remember this girl is always on the go!!




This may sound crazy, but I love that I don't have to spend time trying to create my own piano program. This is already done and it's SO darling!
There are hands on activities while watching the lessons. One minute you are circling black keys on an activity page, the next you are tapping on rhythm instruments or locating keys on the piano. The activities are so varied that it holds my daughter's attention span. The instruction comes with the activity pages divided into lessons, and even my daughter who doesn't typically like coloring gets involved with these pages.

Listening to piano instructor Karri and determining if sounds are loud or quiet.
Coloring her activity pages while watching the instructional DVD




As a classroom teacher, I always believed that the interest and excitement of the teacher played an important role in helping students to learn. Karri is an energetic, entertaining, knowledgeable teacher who makes it easy to learn! My daughter just LOVES her!
We can enjoy a piano lesson again and again… even in our jammies! I love that I can replay a section of the lesson that was thrilling for my daughter, or replay a section that she struggled with for extra practice.

Our favorite activity so far… a creative approach to teaching the location of piano keys.
We finished the first lesson begging for more…so we watched it twice! And we just completed the second lesson and my daughter was laughing and having so much fun. And isn't that what learning is all about at this age? I highly recommend this product to anyone who wants to teach their child how to play the piano! There is a free online trial… so throw your fears and intimidation of teaching your child how to play the piano aside and give this
program
a try! I am confident your preschooler will love it!
Happy piano TEACHing!
You are viewing the item Kinderbach Review

Read source article
http://thehometeacher.blogspot.com/2011/05/kinderbach-review.html
Kinderbach Review
Montessori Apps
I wanted to compose a list of some Apple apps (iPad/iPod/iPhone) that are based on the Montessori approach. The true Montessorians will argue that technology shouldn't replace the kids using actual manipulatives… and I have to agree. There is something about holding the shapes in your hands, touching the different sides of a geometric figure, or feeling the scratchy sandpaper when tracing letters. With that said, I am in love with most of these Montessori apps. They make learning mobile and more activities are available for those of us with limited space. My daughter loves most of the apps we have played with and to me that is SO important. I want her to learn, but I don't want her to hate the learning process!
I divided the apps into Montessori categories. Some of these apps we have, others we have only played with the lite versions. If you have any Montessori apps that you would love to add to this list, please let me know!
Sensorial:
Pink towers: This is the one app on the list we don't have. It seems pretty cute, but at this time it isn't something I am interested in purchasing.
Pink towers and brown stairs lite: My daughter has enjoyed playing with the lite version of this app. Like with all these apps, there is a hands-on experience that is missing. However, it is a good app for teaching sorting small to large and following pictorial instructions. I am happy with the lite version.
Math:
Intro to numbers:
This app has gotten great reviews. It also has a wonderful look and feel about it, but it doesn't provide that all important tactile experience. I am sure that actually handling th
e Montessori manipulatives would be much more engaging and educational! With that said, it is an app that I would recommend to anyone teaching their child number recognition.
Math cabinet (free with ads):
We have played with the lite version. If you can handle the ads, it's a pretty good app for teaching number recognition. I would definitely check this app out!
Geometry cabinet
:

This app is great at teaching a variety of shapes with a Montessori-like approach. Not quite Montessori because it is without the tactile experience (which is the case with all these apps).I love that this app doesn't dummy down the shape names… My biggest complaint is that the puzzle is put together in the same order every time, which means my daughter has the order of shapes memorized instead of the shape names.
100s board lite
:
This app is a little above my daughter's head. I like the concept of this app, especially that your little one can see visual patterns in our numbers (such as counting by 10s starting at 1: 1, 11, 21, 31, 41, etc.). We have played with the lite version and will definitely be purchasing this app in the future!
Reading:
Intro to letters:
This app has stellar reviews. It is a good app for teaching letters and sounds. However, I am not 100% impressed. The digital sandpaper letters just don't give you that hands on experience. I might like it more if my daughter didn't know her letters and sounds already. However, I do love that it teaches phonograms.
Alphawriter:
This is my favorite reading app because the child can explore the sound of letters and some vowel and conosonant digraphs. Not my daughters favorite, but from one educator to another I love it! A great app for making words, sorting words and sounds, and writing sentences.
Montessori Crosswords:
This is a strong spelling based app. I love that there are different levels that will provide my daughter with a longer experience spelling and reading words. Although my little one is great at spelling three letter words (and this app provides practice with them) her attention span is a little short for this app. I am sure we will get many hours of spelling practice with this app in the future!
Culture:
Geography Puzzle
:

I have to say this is one of my daughter's favorite apps. She is very curious about states and this is a simple yet educational puzzle. This app doesn't randomize the order of adding pieces to the puzzle. I also wish you could just explore the puzzle by clicking and removing a few pieces at a time. The eastern states are very hard to see as well. But taking all that into consideration,my daughter has learned from and loves this app!
As I have said many times throughout this post, none of these apps will give you the real hands on Montessori experience. But for those with limited space or like learning on the go- these apps are great!
Happy Teaching!
I didn't receive any compensation for reviewing these posts other than the happy feeling of seeing my daughter learn and grow!
You are viewing the item Montessori Apps

Read source article
http://thehometeacher.blogspot.com/2011/04/montessori-apps.html
Montessori Apps
Number Recognition Activities
We recently played some number recognition games with our
Education Cube inserts
and had a blast! We have had SO much fun and are a definite must-have for any parent with an active (or easily distractible) learner. Why? They keep learning FUN and there is always an element of mystery when you roll that dice…
Anyway, here are some ideas you can use with numbered dice or your
education cubes
to learn those stinkin' numbers:
Roll 4 dice. Which number is biggest? Smallest?
Roll 4 dice. Put numbers in order from least to greatest and/or greatest to least.
Roll one die (that just sounds so weird!) Divide the number in half.
Roll one die. Double that number.
Roll one die. What number is before/after the number you rolled?
Roll one die. Run around the table that many times (this activity is inspired and created for my little runner… remember to center your learning activities around your child's interests!)
Integrate the numbers with your learning units. We recently learned about the weather. I used the number education cube inserts and I created my own weather inserts. First, we rolled the dice. We did different movements that corresponded with the type of weather we rolled. And we counted these movements to the number we rolled. For example, if we got the wind and a 20, we would run around the living room (like we were blowing away in the wind) twenty times. We do a lot of running around here.
Hope these are helpful! Happy Teaching!
You are viewing the item Number Recognition Activities

Read source article
http://thehometeacher.blogspot.com/2011/04/number-recognition-activities.html
Number Recognition Activities
Vowel Party!
To get my daughter familiar with the vowels, we had a little vowel party! First we played this fun game with the Education Cube letter inserts. 5 sides of the dice were the vowels a,e,i,o and u. The sixth side was a chicken. We rolled the dice. If the dice landed on a vowel,we would say both the long and short sounds. If it landed on the chicken, we did the chicken dance. The chicken dance provided enough silliness to keep my daughter engaged in the activity for a long time.
We also added vowel stickers to our exploration journal, played with the vowel foam letters in the bathtub, and made vowel puppets.

Some things we didn't do, but would be fun, would be to make letter pretzels with the vowels, and go on a letter hunt for the vowels. There are also some cute videos and online games at star fall.com!
My favorite part of our little party was when my daughter told me some of the letters were crying because they wanted to be vowels. My Boo has such a tender heart for her ABC's!
You are viewing the item Vowel Party!

Read source article
http://thehometeacher.blogspot.com/2011/03/vowel-party.html
Vowel Party!